"A lot of us come from Jutland, so we don't have many relatives"
We visited 88 year old Bent Vejsgaard Jensen, who lives at Klosergårdens nursing home in Østerbro, for a conversation about life, dead and the vigil service's work in the nursing home.
Bent Vejsgaard Jensen currently resides in the newly constructed Klostergårdens nursing home in Østerbro. He has lived here for the last 20 years, and he was there when they moved from the former now-closed nursing home, Kildevæld. Bent was a trained farmer. He worked as a foreman on various properties, and for a period, he worked on his family's farm, where he managed the crop farming while his brother took care of the livestock.
"My brother was older, and he was supposed to take over the farm, but it was hopeless to take over a farm back then. Nowadays, people complain about high interest rates, but back then you had to pay 20% in interest. That's why I went to India to study. It was an advantage when I was studying that I had so much practical knowledge. Even though there were some subjects where they didn't want us because we sometimes protested when it wasn't true – the things they said in class," he says.
Bent spend two years in India, and he considers this period to be some of the most meaningful in his life. During his stay he worked as an agricultural advisor at three different agricultural schools.
He meet his wife while he was studying, and they were married for 30 years. She worked as an office assistant at the University of Copenhagen and later got a job at the University of Odense when Bent started working as a teacher and mentor at the university.
INVOLVED IN INTRODUCING THE VIGIL SERVICE AT THE NURSING HOME
When his wife's daughter moved to Copenhagen, he also did. Even though he isn't particularly fond of Copenhagen, as he originally is from Jutland.
However, he is content with living in the nursing home: "Otherwise, I wouldn't be here", he says in a straightforward manner.
Bent is a determined person, he knows what he wants. Therefore, if he is dissatisfied with something at the nursing home, he does what he can to change it. He has, for instance, accomplished this through his role as the chairman of the residents' council.
For example, there was a day when they served split pea soup on flat plates in the cafeteria, and Bent couldn't accept it:
He humorously states, "So, I gave the chef a good talking to, and since then he hasn't made split pea soup."
However, there were other matters beyond food that he helped change through his work in the residents' council. For example, the council had numerous meetings and discussions, which ultimately led to the decision that residents in the nursing home should not be alone in their final moments.
This brought Red Cross Copenhagen's vigil service into the picture. The decision was made in Kildevæld nursing home 12-13 years ago. At that time, Bent was the chairman of the residents' council, which is currently on hold due to the COVID-19 pandemic.
THE FINAL DAYS SHALL BE SPEND IN THE NURSING HOME

Bent Vejsgaard Jensen wishes to spend his final days in Klostergårdens nursing home. He has made an agreement with the director about how his final days should be.  
"I have experienced death up close – both with my wife, who passed away at Kildevæld nursing home and my sister and brother-in-law, and I was present at both times when they passed," he says.
Bent also mentions that they generally talk a lot about death in the nursing home, and it's important for him that it shouldn't be a taboo.
At Kildevæld nursing home, they had an event where some lawyers came to assist in writing wills, so several residents were able to create a will at a reasonable cost.
"It is something you should make sure to get done in time. The most important thing for me in my final days is to take care of things that need to be taken care of – like making a will and such matters. Otherwise, I have a relaxed attitude towards death," Bent says.
Bent has seen that the vigil service at the nursing home, and he has met them on several occasions. He believes that it appears to work well.
"A lot of us come from Jutland, so we don't have many relatives," He says.
We asked Bent if we can come back for a follow-up interview in six months and to that he replied, "I don't make long-term plans anymore. I take one day at a time."
What is the vigil service?
The vigil service is an offer for the dying of their any relatives, in their final moments. The volunteer offers presence, comfort and care. The vigil service works with nursing homes, hospitals and home care group.
Daniel spend a year in 'Værket' and came out on the other side of loneliness
When loneliness became too overwhelming, Daniel chose to work on it. Now, he helps others who feel lonely.
A year and a half ago, when Daniel and his girlfriend broke up, he realized that many of his social circles and relationships were tied to his romantic relationship.  When his then-girlfriend left, a significant part of his social life vanished as well. Loneliness hit him, and he fell into a dark place.
However, it wasn't the first time for Daniel to experience loneliness. Even in primary school, he felt lonely when he was excluded by his peers. He believes that these experiences have influenced his self-esteem to this day.
Daniel had previously sought help from Ventilen, a support program for young people who feel lonely. With his experience from Ventilen, he was aware that there were similar programs for people in his situation.
Coming together about being lonely
"The hardest part is coming to terms with it and then taking the step to do something about it. Shortly after my breakup I acknowledged that I was lonely. I quickly decided that I didn't want to feel this way again. I thought about it for a couple of weeks before I signed up," Daniel explains.
For a year, Daniel participated in "Værket", where he met up with a fixed group of 10-12 people once a week. During the meetings the participants were introduced to different tools, they shared their experiences and talked about their own situation. Daniel discovered that loneliness is not a fixed entity:
"We talk about loneliness, what loneliness is – we work with different tools to improve small talk – sometimes we have deeper conversations and focus on an individual's loneliness and what underlies it, because it's unique from person to person."
The volunteers are a crucial driving factor
In addition to the 10-12 participant who attend "Værket", there are 3-4 volunteers who take turns participating in the sessions. Together, they set the framework for the activities and ensure that everyone is heard. According to Daniel, it is not without significance that these support groups are driven by volunteers. In Daniel's opinion, they have different stake in it compared to paid staff:
"It means something that its volunteers we meet in "Værket". They have their own stake in it, not because they themselves are lonely, but they bring their own experiences into it, and they do it out of interest."
In "Værket", Daniel has not only experienced gaining a sense of community and valuable tools to work with but also reached a realization that it's okay to be yourself. Now, he's at peace with himself and no longer feels a sense of loss.
"First of all, "Værket" has meant that I've come out of the hole I was in. Secondly, I've learned that it's okay to be alone sometimes. I need to be alone and recharge my social battery. It's okay to have a few good friends. Quality over quantity," he says.
And Daniel is open about loneliness when it strikes.
"I've become better at talking about loneliness and how I feel. I've become more myself. Instead of hiding things away, I'm open about it. The people I've shared it with have received it well. But I haven't told everyone. It's a select few," he explains.
Inviting others into the community
With his experiences on both sides of loneliness, Daniel wants to share some valuable advice. It's not easy to be one standing on the outside of a community. He believes that we should be more attentive to people who don't reach out themselves and invite then in.
"I've always had a hard time meeting new people, so my advice is, if you are in a community and see someone standing alone, try to be welcoming and invite people in. We should all be more aware and watch for whether others are a part of the communities," he says.
Daniel shares that good things have happened to him since he started at "Værket" a year ago. He found new work and a new girlfriend. He's in a good place in life where he no longer fears loneliness – now he works with it. While loneliness used to be all-consuming, he can now see the sun behind the clouds. And if he ever needs support, he knows that "Værket's" doors are open.
"Loneliness is not gone; I will have to live with it for the rest of my life. But now I have the tools and have worked on myself. And nurtured the relationship I have. The great thing about "Værket" is that you can stay as long as you want," he concludes.
Today, Daniel works as a volunteer, helping young people who experience loneliness, just as he was a year ago.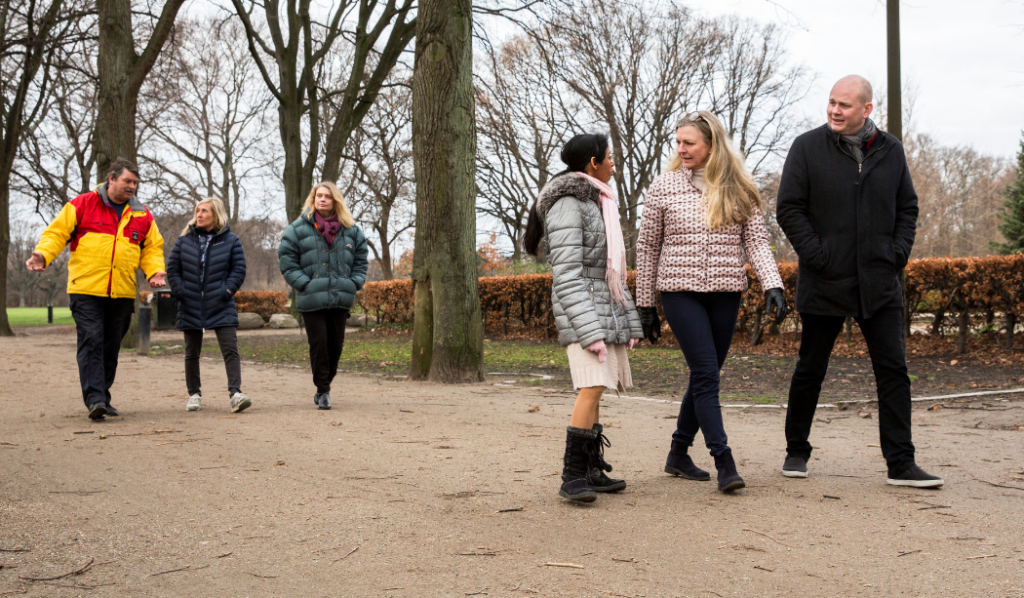 Værket is a community where once a week, adults between 30-60 years old come together in the afternoon and evening hours, and where volunteer group leaders sets the framework for the meetings.
You become part of a group, where you exchange experiences and engage in exercises and activities related to various themes.
The purpose of Værket is to create a social community where, together with other adults, you can find ways to combat loneliness.
Each networking group can consist of 10-12 adults, and each network supported by 3-4 volunteers. Group meetings take place every Tuesday in Frederiksberg.
Do you want to hear more about participating in a Værket-group, then please contact us using the information below.
"You get more energy from exercise – quite ironic"
Simon wants to get in better shape but found it hard to get out the door. Now, he swims multiple times a month with his exercise buddy, Esben.
"I'm currently going through a pretty difficult period in my life. I have a hard time keeping a job which leads to spending a lot of time at home. So getting out and moving by body is really nice," says Simon, who chose to get an exercise buddy through Red Cross Copenhagen.
The exercise buddies Simon and Esben meet twice a month to swim together. They were matched by a team leader who believed that they would be a good match. And that turned out to be completely accurate.
FIRST STEP IS TO GET OUT THE DOOR
When Simon and Esben first meet they went on a walk to get to know each other and to align their expectations.
"We clicked. There were no social awkwardness or weird vibe or anything of that sort," Esben says, while smiling at Simon.
They quickly found out that they both enjoy swimming. Just a few days later they stood in front of the swimming pool with swimwear and towels in their bags, and they have been doing so in twice a month in the weeks when Esben is not out sailing.
Simon has tried various exercise programs for individuals with mental vulnerability, but had found it hard to stick to.
"If I missed it once, it becomes harder to show up next time because I failed to show up last time, and it becomes a vicious cycle," Simon explains.
This is exactly why Simon is grateful to have Esben as his exercise buddy. It makes a huge difference to have one person counting on him.
"It's easier to feel responsible for one person than a whole group, because a group can manage without me. It would be a bit silly if I didn't participate in this," Simon chuckles.



"ALL FORMS OF EXERCISE MAKE THE FUTURE EASIER"
When Simon is going through times, getting out the door can be the hardest part. But when they exercise together, Esben comes to pick him up.
"It's fantastic that he is willing to come all the way to my front door," Simon says.
The trips back and forth also provide some social interaction, allowing time for casual conversation.
"We usually walk back together. So we get a little outing out of it, where we chat along the way. It's really nice, and it's still a bit over half an hour of walking," Esben explains.
The regular training days with Esben have also helped Simon get out of the door on other days of the week.
"All forms of exercise make the future easier. Getting out the door to exercise also helps with getting out the door for other things," Simon explains.
INCREASE ENERGY THROUGH EXERCISE
One of the first things that comes to Simon's mind when asked about what exercise buddies means to him is energy: "In addition to exercise, it also adds something extra to my daily life that provides additional energy."
Simon also begins to notice it in his fitness level:
"There has probably been some progress in my fitness level. Maybe not as much as I would like, but I feel like it has improved a bit," Simon says.
He mentions that they have also done some push-ups in their recent session: "And it's definitely going better than the first time," Esben adds.
Although it can be challenging to find the energy to be active, he finds that it's also rewarding. "You get more energy from exercise – quite ironic," Simon chuckles. 
"It's just easiere when there are two."
Jonas is a 34 year old trained teacher who works as a caregiver for individuals with disabilities. In his free time, he volunteers as a dream agent with Red Cross Copenhagen. Here, he has been matched with a participant from the substance abuse treatment program.
"Life is pretty darn good!" Jonas' new friend shouted from across the road after their afternoon on the golf course. In that moment, Jonas could clearly feel that something good was happening.
Jonas is a 34 year old trained teacher who works as a caregiver for individuals with disabilities. In his free time, he volunteers as a dream agent with Red Cross Copenhagen. Here, he has been matched with a participant from the substance abuse treatment program. The two meet weekly to try out new hobbies and communities. He has been involved since the beginning of the project and understands the challenges that the participants face.
"Right as I graduated, I was actually still attending group treatment sessions on Hørsholmsgade", he explains.
Always easier to be two
During his treatment, Jonas was often told that it would be a good idea to find a hobby when he got on the other side. Copenhagen offers a multitude of activities and opportunities, but several things can hold one back from showing up.
"It's good advice, but it is incredibly difficult and abstract if you haven't been used to having many hobbies or perhaps had to say goodbye to your circle of friends. Maybe you think it could be fun to start playing football, but you're not quite sure if you dare. I know it's always easier when you have someone to do it with," Jonas says.
A volunteer not a case worker
For Jonas, it makes perfect sense to spend a couple of hours each week helping another person move forward. 
"I read about dream agents on Facebook, and then I thought it was exactly what I was missing back then. At least for a period, having someone to help you explore things you'd like to do. So, I really think it made sense."
When Jonas meets up with his new friend, they meet on equal terms, and it's evident that voluntariness is the core of their relationship. 
"It seems like there's a sense of security knowing that I'm there for him for two hours, without me having to be a reporting agency or from the municipality," he explains.
A rewarding relationship for both parties 
One of the most crucial aspects of creating a good and equal relationship is that both parties feel that they benefit from spending time with each other. Jonas is happy to try new hobbies as well: 
"I think that's a huge plus for him. The fact that I also gain something from our relationship, so it's not just me spending two hours on you for your sake, but it's mutual, and we both enjoy being together."
Even though their relationship is equal in every way, as a volunteer, one must find the right balance in the relationship to both keep things in order and, at the same time, assist the participant.
For Jonas, it feels very natural that he takes responsibility but still perceives their relationship as completely equal.
"Perhaps, you can relate this  to a regular friendship, where it's mostly you who takes care of booking the badminton court or something similar, but you are still equal friends," he says.
Real relationships can bring real concerns
For Jonas, the sense of community around specific activities is one of the most important aspects of dream agents. When the two of them are together, they don't have to think about anything else expect being together and being activity buddies.
"When you've had a substance abuse problem, you're constantly talking about it. Here, you have the opportunity to meet someone who can lead you into communities where you talk about everything else but addiction," he explains.
Although the friendship is fantastic and mutually rewarding in many ways, it can also create some worry for Jonas, especially if he notices that their agreements are being broken:
"It could be that he has relapsed or just lost the motivation for project. It does create some concerns, but on the other hand, it's also what makes it feel real – I genuinely become concerned."
Fortunately, the dream agents have direct contact with both the activity coordinator at Red Cross Copenhagen and a staff member from the substance abuse treatment program."
Dreams about a better future
Jonas' match lasts for a period of six months, and then the program comes to an end. Jonas dreams that by that time, they will have found a community where his new friend can find secruity. 
"During these six months, I'm going all in on this and truly benfitting from it myself. When the six months are over, I really hope he's in a better place than when we first met. This is a stepping stone for him to become better at helping himsef get started," Jonas explains.
Written by Niels Feddersen
Sort- donate
Although we appreciate all donations, here are certain items that may not be suitable for our charity shops. Therefore, we have created a list of the donations we enthusiastically welcome and items we kindly request not to receive.
Clothing and shoes
Glass, porcelain, and ceramics
Pictures and art
Lamps and furniture
Textiles and yarn
Sports equipment
Toys and baby gear
Books and LPs
Kitchen utensils
Stereo systems, speakers, and printers
Hangers
VHS tapes, CDs, and DVDs
Binders
Encyclopedias and dictionaries
Unassembled furniture