FOOD DISTRIBUTION
For people who have difficulty making the food budget meet ends and last a whole month.
Become a volunteer
The food distribution is for people who have difficulty making the food budget meet ends and last a whole month. At the food distribution, you can pick up free surplus foods from Grønttorvet, among others. We have two different distribution points – in Nørrebro and in Sydhavnen.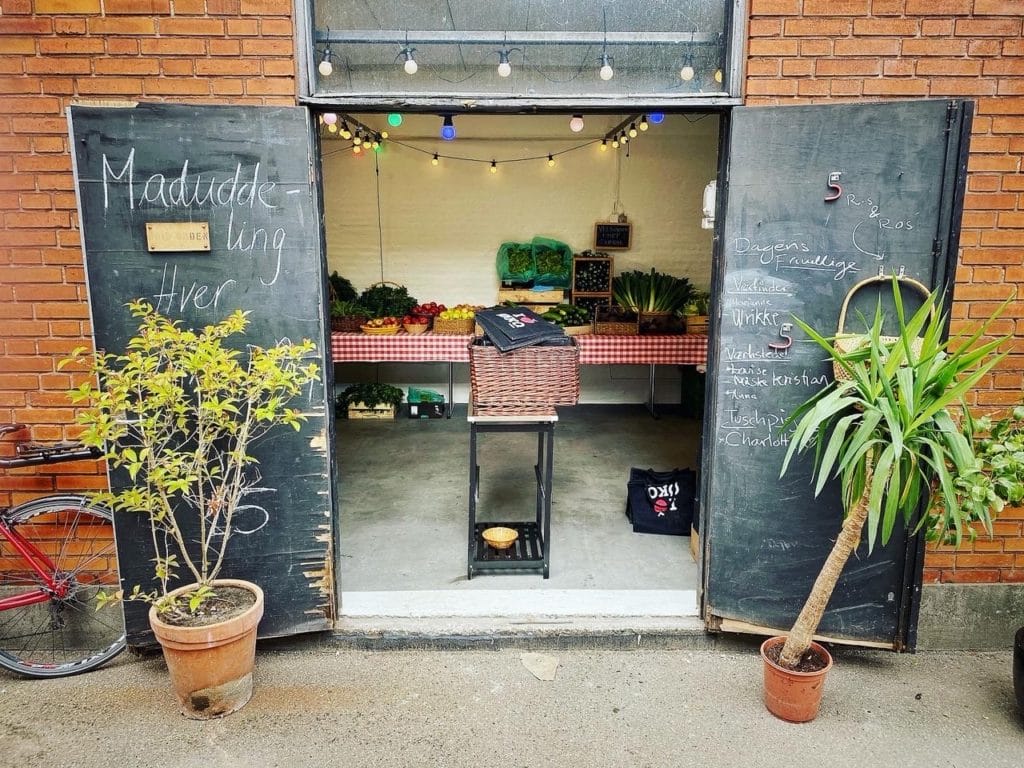 The food distribution takes place in Nørrebro twice a week on Tuesdays from 15:30 to 17:30 and at Fridays from 13:30 to 15:30. The address is Nordre Fasanvej 218 through the gate.
When you show up to pick up food you must bring your own bag. While you pick up your goods, you can enjoy a cup of coffee or tea and enjoy a nice and good atmosphere in the café. You can also have a little talk with the volunteers and other participants.
To pick up food in Nørrebro, you must register here. The registration will open at 10:00 the day before the distribution.
When registering you choose the time interval, in which you want to pick up your basket. Please show up in the chosen time interval so we can make sure that everything goes as smooth as possible. The registrations open the day before the food distribution and close one hour before the distribution or when the places are full. It is only possible to order one basket per household.
If you have problems registering, please call the reception here. Then our receptionists will help you or find someone who can help you.
As we care both about food waste and the environment in general you will receive your food in a basket from where you will have to pack them in the bag that you brought with you. This is why it is important that you always remember to bring a bag or two.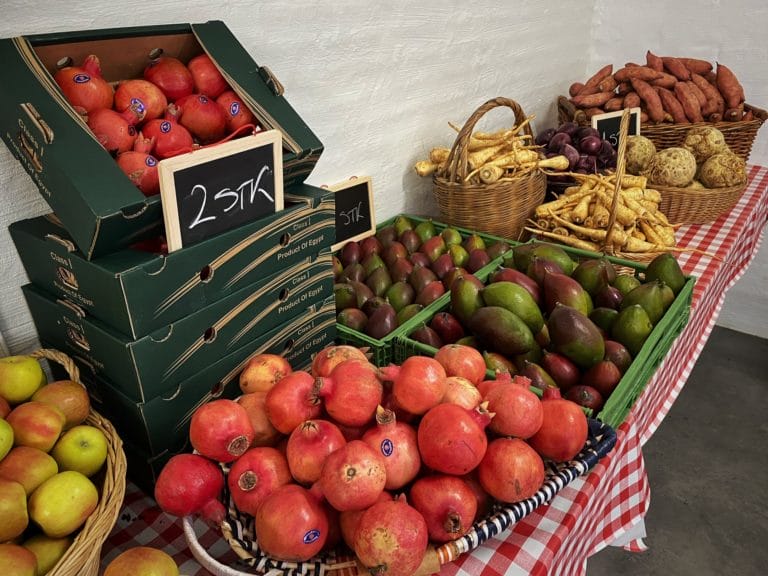 The food distribution takes place in Sydhavnen at SydhavnsCompagniet every Tuesday from 14 to 14:45. The address is Peter Sabroes Gade 1, 2450 København SV.  
There is no registration needed for getting the food, you just show up. However, we recommend that you drop by, as close to 14:00 as possible, if you want to be sure to bring home fruit, vegetables and bread.  
You can help in several ways as a volunteer in the Food Distribution. In the distribution itself and the café or as a driver.  
The food distribution and the café 
In the distribution, you greet the participants with a smile, check them on the list and hand out a basket of goods. Before that, the goods must be sorted, divided evenly and packed in baskets. When participants pick up their goods, they can also visit the Food Distribution's café. Here, volunteers warmly welcome guests and provide coffee and tea.
The café is a place for a cozy get-together. As a volunteer, you must be open to chatting with the participants, be there to listen and ensure a good atmosphere in the café. You can talk about everything from the goods the participants have brought home and recipes to go along with them or other offers in the Red Cross or other organizations, as the café also functions as bridge building for these offers. It is dynamic, practical and super cozy and great to see the joy of the participants.  
Driver: As a driver, you help to pick up the goods that are in the Food Distribution. The goods are picked up from our donors and the time for collection is typically between 8.30-11.30.
WHAT ARE WE EXPECTING OF YOU?
As a volunteer in the Food Distribution and in the café, you must be good at maintaining an overview, dare to take action, as well as have an open mind, as you are in contact with many participants.  
As a driver, you must have a valid driving license (al. B driving license), and have the courage to drive a van and a pallet lifter. Experience driving a van and pallet lifter is an advantage, but not a requirement. You should have a reasonable physique, as there may be pushes / minor lifts in connection with pick-up and delivery of goods. You will drive with a partner, so you will share the driver task. We can offer you courses and participation in networks and social events with other volunteers. Support, guidance and relevant competence development is also a focal area. 
WHEN AND WHERE ARE YOU HELPING?
The Food Distribution in Nørrebro takes place twice a week: Tuesday from 15 to 18 o'clock and Friday from 13 to 16 o'clock. As a volunteer in the distribution, you must be able to take at least two shifts a month during the above periods.
As a driver the work takes place: Tuesday from 8.30 to 11.30 and Friday from 8.30 to 11 o'clock. You must be able to take two shifts a month. You must pick up the van in Nørrebro and the drive to Taastrup, pick up the pallets of vegetables and fruit on Grønttorvet, and then back to the Red Cross Copenhagen in Nørrebro and in SydhavnsCompagniet. 
Become a volunteer in our food distribution